Well we are home. We got home yesterday (Sunday) afternoon to a house full of sickness. It was so nice to sign those lovely discharge papers from the "clink" and get outta there, but walking into our home was kinda eery. The only healthy one right now is my hubby, and I'm guessing that will be short lived as well. I have this horrible head congestion, sore throat thing thats wiping me out, Hunter, our 4 year old, is still trying to get over his crud which is pretty much what I'm now getting. Our youngest, Bradyn who is 18 months is so sick. Sounds very croupy but with a pretty good fever and a ton of congestion, he is miserable. And this is where I'm trying to get my son all better? He was sent home on 14 days of home IV's, the best schedule we've EVER had! Ceftaz IV every 8 hours, IV Tobi once a day, and oral Doxi once a day. That is easy peasy! But now I'm playing a fun game of 3 child keep away...trying to prevent Conner from catching whatever viral junk this is in our home. I heard today that another strain of the flu is out and heavy here right now...oh joy. I sure hope we don't have that. It'd be a setback that Conner simply can't afford right now.
So I'm trying to rest so I feel better because Thursday is my Chefs Dinner speach for CF. I've had it written for about a month now, but I keep going and modifying it a bit almost daily. I need to feel better for Thursday, cus I'm going to do it no matter how I sound. Gotta raise that money for the CFF.
In other interesting news I will leave you with a picture of our newest form of CPT for Conner. Not to mention that his brothers love it tons too! It really gets Conners oxygen pumping and helps him get lots of coughing and moving that mucus...I highly suggest it! the best part is it's only $200 and not $20,000 like the Vest!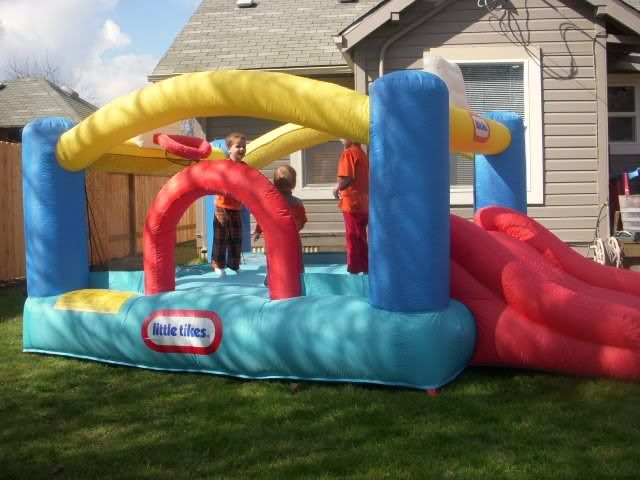 Love
Sarah