I can hardly stand how beautiful the weather was this entire weekend. It was Gods grace and Gods love shining down in those beautifully warm rays of sunshine. We didn't do anything too exciting, projects around the home...I delved deeper into my love of all things gardening and created a little hide away for me to just sit and simply...be. I love it.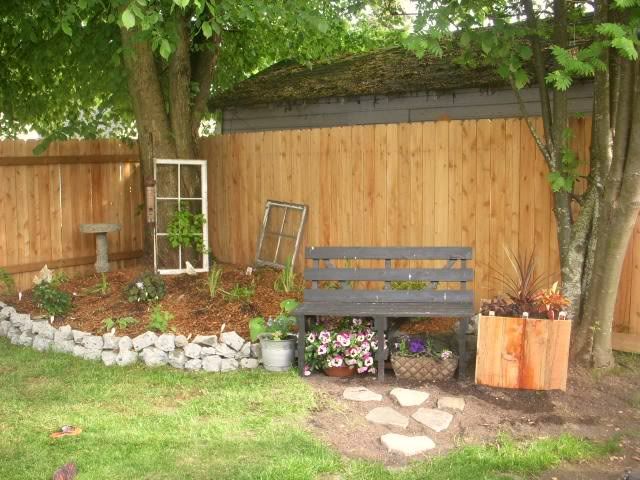 It's not quite finished, I'm going to string some lights out there so I can sit there at dusk or whenever and just kinda be...this garden right now is my life. It's a sign of new life and new beginnings of course...it's a story of reusing what we already had within us...and it's a story of peace and hope and love. The border rocks are actually concrete my husband broke out of our walkway, the wooden planter box is built from extra fence boards by my husband because he knows how much I love to plant and garden. There are bird feeders and a bird bath so our kids can sit and watch them. And one of the plants that I have planted is called a bleeding heart. Because that is where I am these days...how fitting.
We love to be out in our backyard as a family, but the sun can be so piercingly hot for Conner, so I went and got a umbrella and a table so he can be outside in the shade with us with his O2 near by.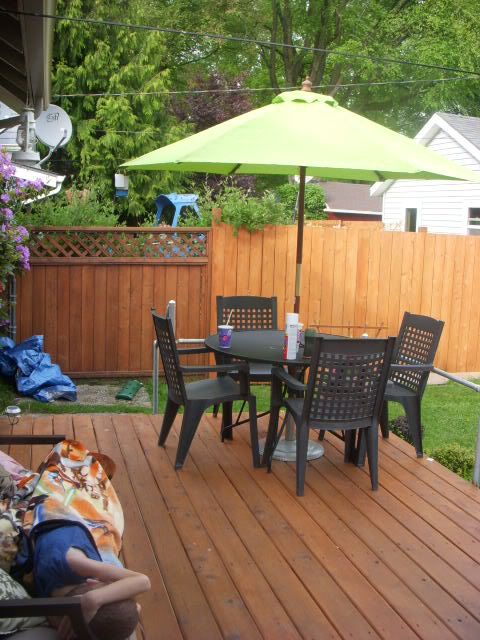 But you'll see he's laying on the couch instead.
He didn't get off the couch much this weekend at all. His body is tired. Even on 4Liters of o2 he gets completely winded even walking to the bathroom from the couch not even 10 feet away. It's been a very difficult weekend. Emotionally. I just feel so robbed. I keep getting glimpes in my head of life without him in it. I'm terrified of that. absolutely terrified. I find myself unsure if it's morbid to figure out all of these decisions that will have to be made when he does leave us. I just know I'm going to be an absolute mess and the last thing we'd want to do is think about burial plots etc...but I don't want to waste time here and now doing it either. precious time with my son. I am stuck in between two worlds and neither one is completely appealing...life without my son in it or life with him suffering in it.
and that sucks.
As a mom I try my best to do each thing I possibly can for my children...and I've never been told that it's not enough. that it'll never be enough. that no matter how hard I try, I will not be able to fix the way he is broken. While I completely know it's not realistic...I feel a failure to him in that respect. I know it's a disease that I could've done nothing to prevent for him, and absolutely we've done all we can for his health...but we've failed still.
Conner has such a tender heart for his family, for his brothers especially. The day I shot the picture of him laying on the couch outside watching his brother play was Thursday while it was just him, me and Bradyn. Bradyn was playing in a little bit of water with some toys and Conner wanted me to take a picture of him with Grover because he said he just loved them so much, and that Bradyn was so cute...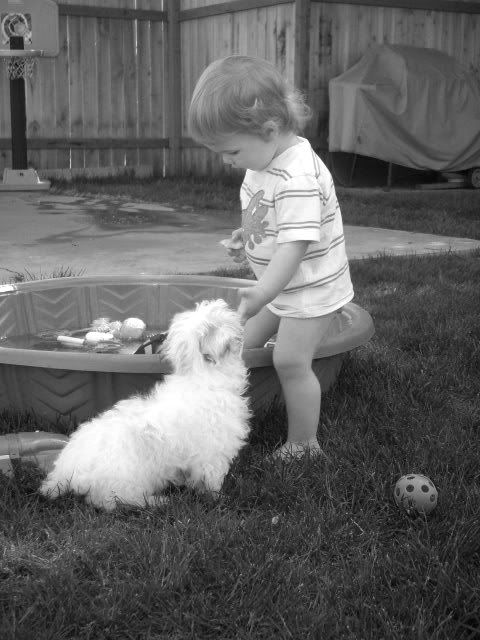 Snapping that picture for Conner so he could see it up close because he was too weak to get up was absolutely heart wrenching. This is just happening so fast...I mean I know it's not really... it could be months or whatever of this...but to me...just a few weeks ago he was walking most days oxygen free until bedtime...and now...he's on more o2 then he's ever needed constantly and he still doesn't have the energy to walk.
This is just surreal.
No other way to explain it. Like this is all a movie I'm watching. I'm just lost in all of this. Conner asked me to sleep with him last night, Brad has been for the past week or more each night, so I felt special it was my turn.
I don't think I slept much more than 4 or 5 hours tops. He was wimpering in his sleep. His breathing with the bipap was loud and forceful. But I did my best to just hold him as close to me as I possibly could and just breathe him in. Just be in that moment as long as I could. It was beautiful and difficult.
He's just so little. His my firstborn child. His body is so tiny and fragile now. He knows whats going on with his body changes but he won't talk to me about it yet. So i'll just keep trying. I need him to know this is ok. That when Jesus is ready for him, we'll be sad, but ok without him. I need him to know that if he's too tired to stay here, that he doesn't have to hold on just for us. For our pain. Because thats selfish of us. He hurts. We ache. Such a delicate balance. I need him to know over and over and over again how much we love him, how proud we are to be his parents, how from the moment of his conception, his father and I fought for him to live, to breathe, to exist, to laugh, to grow, to play, and to live the fullest life as possible. Who knew that could be accomplished in not even a decade of living...
I only hope that when I say to him that I'm going to be ok...that I really can be ok....